I had a wonderful trip down memory lane this week recalling summers spent at my great-grandfather's farm for family reunions ~ the Herrells, my mother's side of our family.
Rural Middle Tennessee farmers, the family has worked land for nearly 300 years in Raccoon Valley near West Knoxville and Oak Ridge. Beginning in the early 1930s, they would gather on the Fourth of July for a day-long celebration.
When I was a kid, it was a day I looked forward to all summer. My great-grandfather was the ruling patriarch. He was 91 when he died. A Spanish-American War veteran and father of five, he farmed that land his whole life.
After Papaw passed, my grandfather and his four siblings were in charge at the reunion. My uncles manned the grills, oversaw the churning of homemade ice cream, and drove hay wagons around filled with screaming and laughing kids.
My aunts were all about the food. Two huge farm wagons were brought out to the side yard and would be overloaded with food. One thing southern women know is food… fried chicken, pork chops, baked hams, every side dish you could imagine. And desserts? You would think you were in heaven… pies, cobblers, cakes, cookies, brownies, all home-baked and all indescribably delicious.
We ate and played all day, then at night all the kids were given sparklers, and the grown-ups would set off fireworks. It was incredible. For a kid, it was like Christmas, Thanksgiving, Easter, Halloween and birthdays all rolled into one huge celebration.
All my grands are gone now. My mother's generation has lost so many too. Now, the cousins from my generation are the reigning elders. Our children are graduating high school, college, marrying and birthing the next generation. It feels odd to be among the oldest attending the event.
I became so homesick thinking about those reunions, I called my mother to ask about this year's celebration. Now held at a cousin's home, she told me it was going on as usual. Then she told me that her sister and brother, and their spouses, would be coming back to Tennessee for the reunion. That pushed me over the edge and I began making my own plans to make the trip home.
Then she told me my brother had mentioned possibly coming too, and that gave me pause.
My brother, my only biological sibling, and I don't get along. When I say we're estranged, it's being generous. It's been at least five years since we've seen each other, and then it was only because we both came to the hospital to be with our dad who was having heart by-pass surgery. Still we barely spoke to each other.
I don't know why we are like we are. We were never close, even as kids we didn't get along. He always seemed so angry and hostile toward me. I would become defensive and take every thing said or done as an insult or personal attack.
Our relationship was so toxic, our parents couldn't deny we were better apart.
That was until last February. My mother asked us to try once more to reconcile, as a Valentine's gift to her. I was receptive to the idea, but stipulated that I had tried too many times to 'make nice' and was constantly rebuffed. Any more attempts had to come from him first.
Then nothing… no contact for months. On my birthday in October, I received an email from him. Since that time we have exchanged a few more notes. We've agreed that we both behaved poorly and that if we were to have a relationship now, we needed to simply start new. No past…
I've missed having a brother. The last few years have been difficult for us both. Even though we don't speak, I still get rare snippets of news from my parents. I suspect he also gets reports on me. I think we both would have benefitted from having another friend in our corner.
Once I had confirmed my trip details, I emailed my brother to let him know I was coming to the reunion, and asked If he was coming too. I haven't heard back from him yet, but I hope we get a chance to talk. Maybe take a few more steps toward reconciling.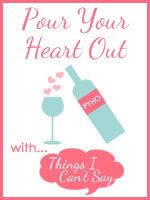 Submitted as part of Shell's "Pour Your Heart Out" writing prompt at Things I Can't Say. Please stop by to read the other posts, and give a little comment love.